Trapper Creek, Alaska …
The intersection of a rich future with a true Alaskan legacy from the past.
Trapper Creek Community Services Association, Inc. (TCCSA)
PO BOX 13049
Trapper Creek, Alaska 99683
Phone: 907-733-7375  [email protected]

Location:
MP 115.2 Parks Highway
9971 E. T C Park Circle
Trapper Creek, Alaska 99683
Trapper Creek Community Services is a non-profit corporation that is comprised of members of the Trapper Creek community. A board of directors is elected by members to govern the affairs of the organization. The T.C.C.S.A. Board manages and oversees the wellbeing of the community building, the Free Box, park grounds, trails and cemetery. The park consists of seventy acres and the cemetery is twenty acres. Annual and Biennial festivals and events are conducted to raise revenue to help maintain the park and cemetery.
River of Life – Christian Fellowship
Mile 0.8, Petersville Rd
Trapper Creek, Alaska 99683
Corner of Kula and Petersville, Trapper Creek, AK, United States, Alaska
Service: Sunday 11:00am
Phone: 907-733-2102
Facebook Page: River of Life Christian Fellowship
St. Philip Catholic Church
Mile 115 Parks Hwy
Trapper Creek, Alaska 99683
Mass Sunday: 11:30 AM
Phone: (907) 733-1211
Trapper Creek Fellowship – Lutheran
Mile 1.5 Petersville Rd.
PO Box 13015
Trapper Creek, Alaska 99683
Service 2:00 pm
Community Emergency Responce Team (CERT)
Community Emergency Response Team (CERT)
Contact: Michael Volin
Phone: 570-441-0944
Email: [email protected]
CERT members living in the Trapper Creek area can assist themselves and others in their neighborhood following an event when professional responders are not immediately available to help.
Trapper Creek Volunteer Fire Department
PO Box 13386
Trapper Creek, Alaska 99683
907-232-7028
Trapper Creek Community Council
Email: [email protected]
This organization promotes the general well being of the community and supports community efforts by:
1.Providing a central channel of communication between groups and individuals within and outside the community.
2.Promoting studies, surveys and other activities to determine the current and future needs of the community.
Trapper Creek Elementary School
6742 E. Petersville Road
Address: PO Box 13108
Trapper Creek, Alaska 99683
Phone 907-733-9451 Fax 907-733-9480
Principal: Allison Wall
Admin. Secretary: Melissa Everett Laggis
Trapper Creek Library
8901 Devonshire Road
PO Box 13388
Trapper Creek, Alaska 99683
Phone: 907-861-7650
Email:
[email protected]
 The Free Box 
The Trapper Creek Free Box was established approx. 35 years ago to provide a public receptacle for donations available to all. It has been housed in several locations, in different capabilities, but always with the intention to help others. This resource was established anew in 2012, residing now in the Trapper Creek community park. It is managed, very successfully, 7 days a week, by a committee of four volunteers under the auspices of the Trapper Creek Community Services Association, Inc.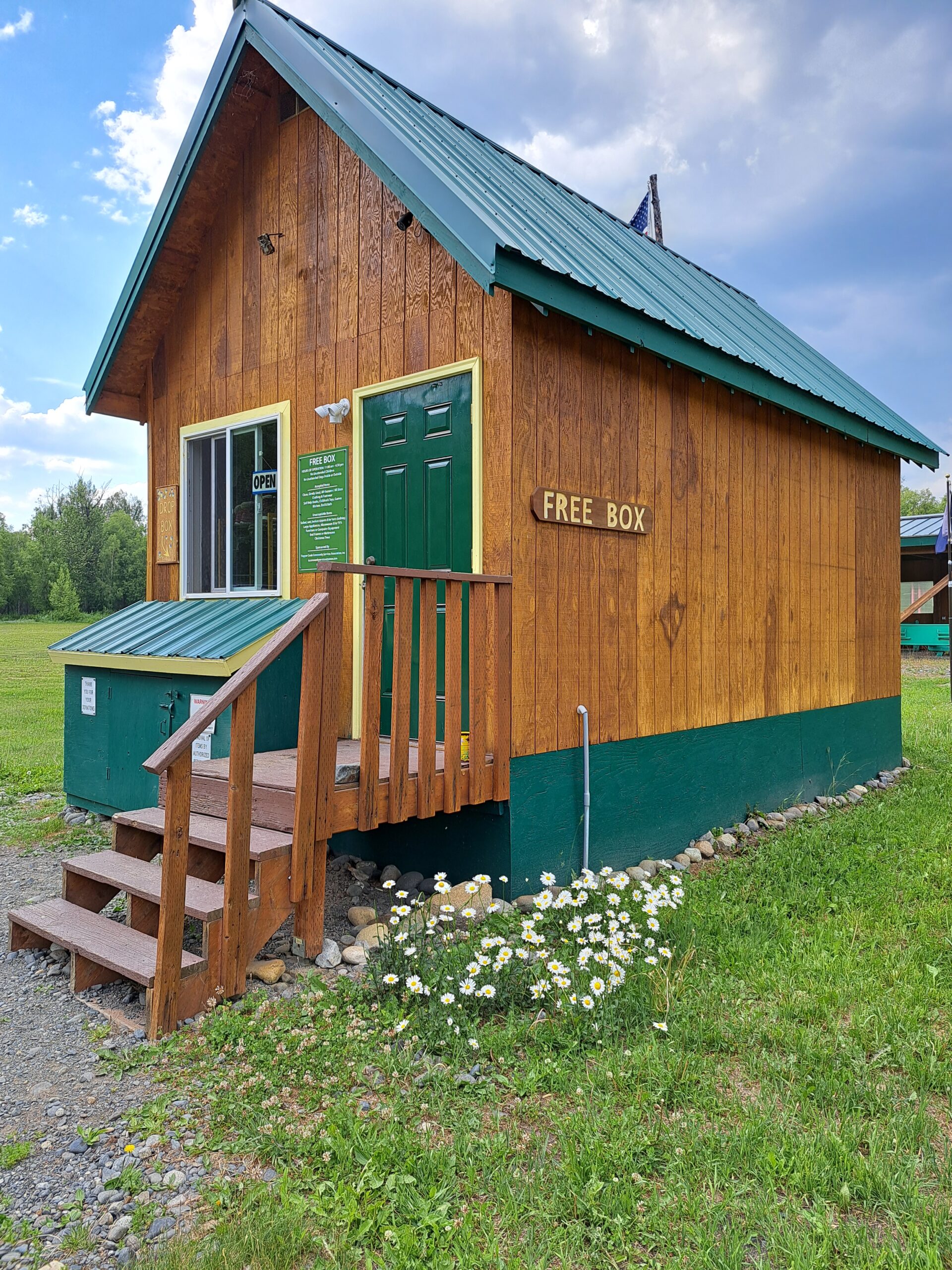 The Trapper Creek Memorial Wall 
The Trapper Creek Memorial Wall was completed in October 2020. It is located at the east side of the Trapper Creek Cemetery as a lasting tribute for those departed folks that have been a part of the history of Trapper Creek.
The Wall is constructed of 6" x 6" spruce timbers stacked horizontally in three interlocking sections. Mounted on the wall are vertical birch boards on which plates will be affixed with individual names, date of birth, date of death, and any military affiliations. The three sections are designated for Veterans, those buried in our cemetery, and all others. Each year before Memorial Day engraved stainless steel plates are added to honor those individuals who have contributed to Trapper Creek history.
The Memorial Wall is unique and fitting to our frontier Trapper Creek lifestyle, including many burled logs, the joining of the timbers of the wall in the style of a log cabin, and the fine wood-burning of the titles for each of the three wall sections: Veterans, Trapper Creek Memorial, and Cemetery.
DEDICATION MAY 30, 2021
"Today we respectfully honor the settlers and residents of Trapper Creek, Alaska who have passed on.
We recognize them for:
· being makers of homes, providers, builders of roads and bridges, tillers of soil, hunters and fishers, seekers of gold, and the wearers of many hats,
· the examples they set for ingenuity, and the ability to thrive and survive many an Alaskan winter using their wits,
· their strengths, knowledge of life and the respect and time they accorded, family, neighbors, and friends,
· teaching by example, as good teachers do, and their creative spirit and the finely honed ability to make something useful or beautiful out of practically nothing or commonplace.
These are real Alaskans, proven by their love of the land and, as Veterans, in their service to the United States of America.
     With this memorial we have ensured that they will be in our memories forever."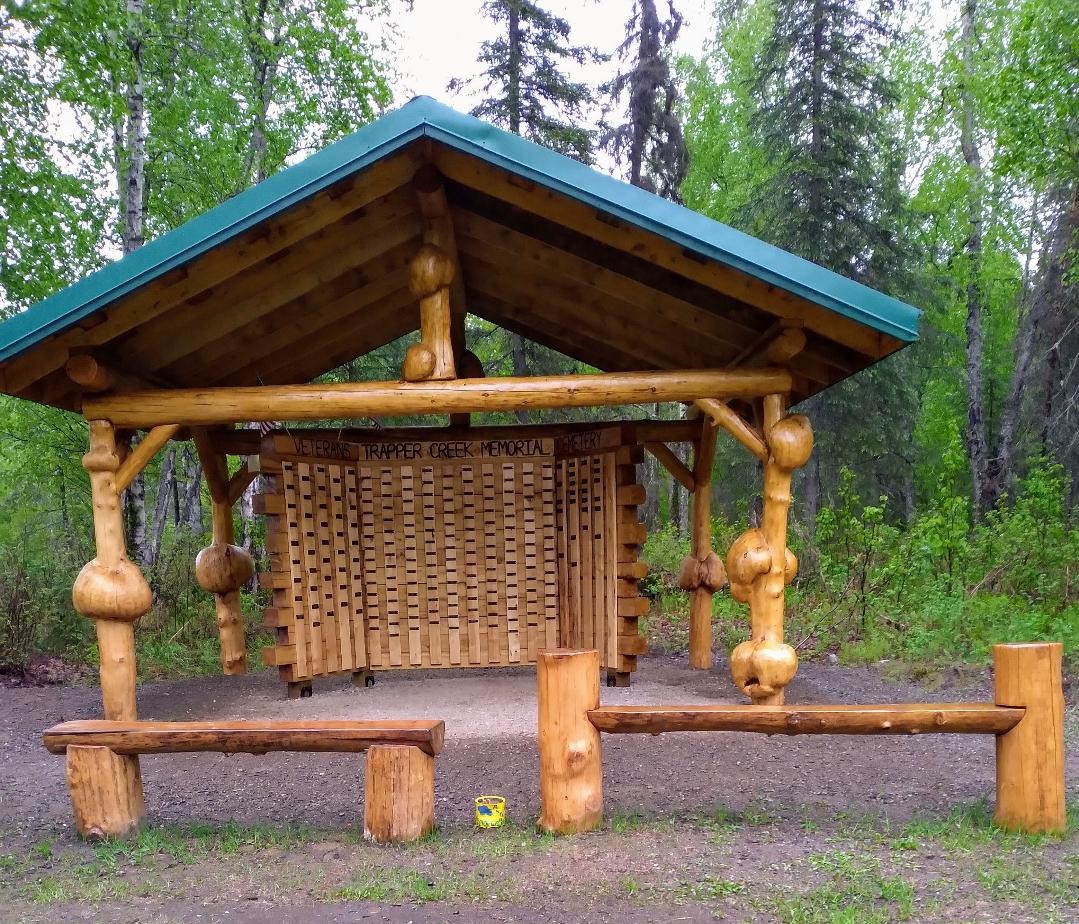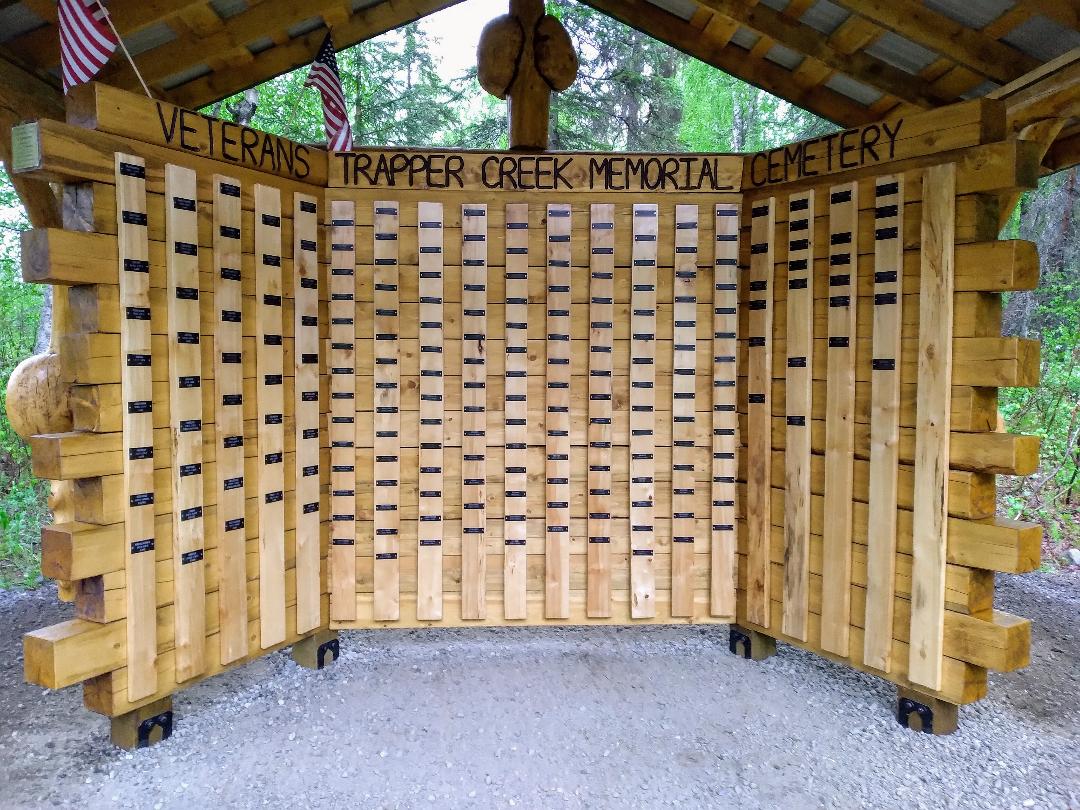 SOUTH DENALI TRAIL MANAGEMENT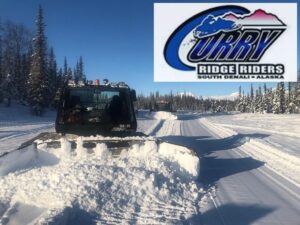 Curry Ridge Riders 501 c3
PO BOX 13218
Trapper Creek, AK  99683
Hotline: 907-689-7669